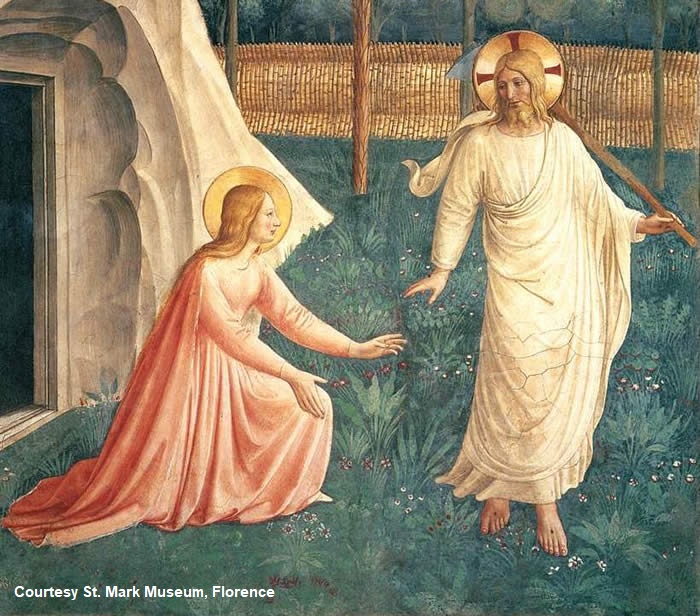 Noli me tangere, Fra Angelico, St. Mark Museum, Florence
BLESSED ANGELICO
1h docufilm by Elisabetta Valgiusti
Watch clip – Vedi clip 3′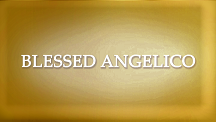 The documentary part of the program depicts Angelico's life and work locations illustrating his main masterpieces with comments by theologians and art experts like Msgr. Timothy Verdon, Fr. Msgr. Valentino Miserachs, Ruberval Monteiro OSB, Elizabeth Lev, Fr. Daniel Ols OP, Fr. Fausto Sbaffoni OP, Fr. Carmelo Mezzasalma CSL, Fr. Alessandro Andreini CSL, Director of St. Mark Museum Angelo Tartuferi and Director of St. Giovanni Valdarno Diocesis Museum Michela Martini. Also with the participation of H. Ecc. Msgr. Mario Meini, Bishop of Fiesole (the diocesis Fra Angelico's convent belongs to) and H. Ecc. Msgr. Riccardo Fontana, Archbishop of Arezzo – Cortona – Sansepolcro.
The fiction scenes with Ciro Toto performing the Saint highlight Fra Angelico's powerful commitment to the divine mysteries.
Blessed Angelico, born Guido di Pietro at Vicchio Mugello in Tuscany in the last decade of XIV century, is listed in the Roman Martyrology as Blessed Giovanni of Fiesole, already nicknamed Angelico by his contemporaries. Blessed Angelico continuously practices his art. He is used to say that who does Christ's work must stay with Christ always.
Fra Angelico's works constitute a milestone of Renaissance Art, especially his cycle of frescoes at St. Mark Convent in Florence. Many of his works are housed in international museums around the world, in Europe, Usa, Russia.
"He does not paint, he prays", reported one of his brothers at St. Mark Convent. While theologian Hans Urs von Balthasar said Angelico's art perfectly represents the motto of the Dominican Order "communicating to others the contemplated mysteries".
Pope Pius XII considered Fra Angelico a prophet of the sacred art. Pope St. John Paul II beatified Angelico on 3rd October 1982; then he declared him patron saint of artists on 18th February 1984 in St. Maria Minerva Basilica in Rome. Here Angelico died and was buried in 1455. John Paul II affirmed: In his artworks, the colors and shapes give worship before thy holy Temple and praise thy name. ( Psalm 138,2)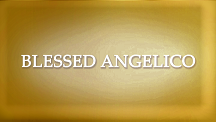 BEATO ANGELICO
, 1h docufilm
Scritto, diretto e prodotto da Elisabetta Valgiusti.
Prodotto da EWTN-Global Television Network e Save the Monasteries
https://www.savethemonasteries.org/
La parte documentaristica del programma descrive la vita e il lavoro del Beato Angelico nei luoghi originali e ne illustra i capolavori, con il commento di studiosi ed esperti: Mons. Timothy Verdon, Mons. Valentino Miserachs, Ruberval Monteiro OSB, Elizabeth Lev, Daniel Ols OP, Fausto Sbaffoni OP, Carmelo Mezzasalma CSL, Alessandro Andreini CSL, Direttore Angelo Tartuferi Museo S. Marco, Direttore Michela Martini S. Giovanni Valdarno Museo Diocesano. Con la partecipazione di S. Ecc. Mons. Mario Meini, Vescovo di Fiesole e di S. Ecc. Mons. Riccardo Fontana, Arcivescovo di Arezzo – Cortona – Sansepolcro.
Ciro Toto interpreta il Beato Angelico nelle scene che evidenziano la sua dedizione ai misteri divini.
Il Beato Angelico, nato Guido di Pietro a Vicchio di Mugello in Toscana alla fine del secolo XIV, iscritto nel Martirologio Romano come il Beato Giovanni di Fiesole, è soprannominato Angelico già dai suoi contemporanei. Fra Giovanni si esercita continuamente nella pittura ed è solito affermare "chi fa le cose di Cristo, con Cristo deve stare sempre".
Le opere dell'Angelico, specialmente lo straordinario ciclo di affreschi del Convento di San Marco, costituiscono una pietra miliare dell'arte Rinascimentale. Molti suoi lavori sono esposti in musei internazionali in Europa, Stati Uniti, Russia.
Angelico predica dipingendo; inoltre "Non dipinge ma prega" afferma un confratello del Convento di san Marco. Il teologo Hans Urs von Balthasar sosteneva che l'arte del Beato Angelico rappresenta perfettamente il motto dei Domenicani "contemplare e trasmettere agli altri ciò che si è contemplato".
Papa Pio XII considerava Fra Angelico quale profeta dell'arte sacra. Papa Giovanni Paolo II gli ha concesso l'onore degli altari il 4 Ottobre 1982 e lo ha dichiarato Patrono degli Artisti il 18 Febbraio 1984 nella Basilica di S. Maria Minerva di Roma, dove il Beato Angelico morì e fu sepolto nel 1455. Giovanni Paolo II ha affermato: Nelle sue opere i colori e le forme si prostrano verso il tempio santo di Dio (Sal 138, 2), e proclamano un particolare rendimento di grazie al suo nome.